This post shows how to make a full or partial backup of a MySQL database using PHP code only. This is very useful for example when a customer doesn't give us access info to the database of a web application and we have FTP access only. Or when they provide us with the connection info but it is not accesible through the network (only available in localhost) and we can't use tools like mysqldump to make the backup because we don't have privileges enough to do so or simply because we have no access to a shell to which connect to and execute commands.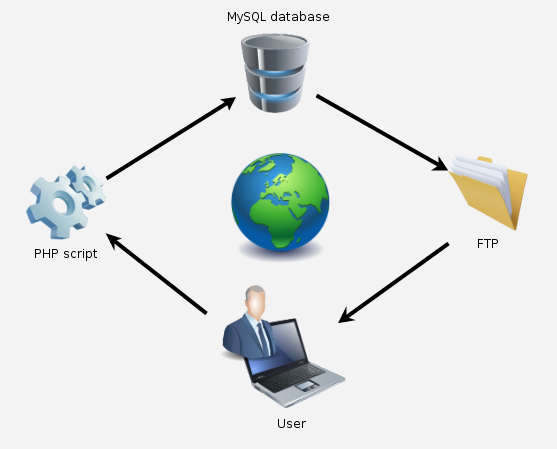 In any of these scenarios, simply copying and running the Backup_Database.php PHP script below we'll be able to make a full or partial (only some tables) export from the database to a file that can be downloaded later from the same FTP account. PHP applications usually have a configuration file like config.php or a similar one where we can find the database username and password if for example the customer has forgotten, and usually have a directory with sufficient permissions to create new files (cache, tmp, temp, etc.), which is where we tell our script Backup_Database.php to leave the database backup. The .sql file resulting from Backup_Database.php script execution will have a name like db-backup-database-date-time.sql:
~$ ls cache/*.sql
cache/db-backup-smf-2012-01-31-11-17-35.sql

This file contains the SQL code necessary to reproduce the structure and content of the original database into another database using the mysql command:
~$ mysql -p -u admin smf < db-backup-smf-2012-01-31-11-17-35.sql

Command to restore the exported database.
Backup_Database.php source code
<!--?php 
/**
 * This file contains the Backup_Database class wich performs
 * a partial or complete backup of any given MySQL database
 * @author Daniel López Azaña <-->
 * @version 1.0
 */

// Report all errors
error_reporting(E_ALL);

/**
 * Define database parameters here
 */
define("DB_USER", 'admin');
define("DB_PASSWORD", 'test_passwd');
define("DB_NAME", 'database_name');
define("DB_HOST", 'localhost');
define("OUTPUT_DIR", 'cache');
define("TABLES", '*');

/**
 * Instantiate Backup_Database and perform backup
 */
$backupDatabase = new Backup_Database(DB_HOST, DB_USER, DB_PASSWORD, DB_NAME);
$status = $backupDatabase->backupTables(TABLES, OUTPUT_DIR) ? 'OK' : 'KO';
echo "


Backup result: ".$status;

/**
 * The Backup_Database class
 */
class Backup_Database {
    /**
     * Host where database is located
     */
    var $host = '';

    /**
     * Username used to connect to database
     */
    var $username = '';

    /**
     * Password used to connect to database
     */
    var $passwd = '';

    /**
     * Database to backup
     */
    var $dbName = '';

    /**
     * Database charset
     */
    var $charset = '';

    /**
     * Constructor initializes database
     */
    function Backup_Database($host, $username, $passwd, $dbName, $charset = 'utf8')
    {
        $this->host     = $host;
        $this->username = $username;
        $this->passwd   = $passwd;
        $this->dbName   = $dbName;
        $this->charset  = $charset;

        $this->initializeDatabase();
    }

    protected function initializeDatabase()
    {
        $conn = mysql_connect($this->host, $this->username, $this->passwd);
        mysql_select_db($this->dbName, $conn);
        if (! mysql_set_charset ($this->charset, $conn))
        {
            mysql_query('SET NAMES '.$this->charset);
        }
    }

    /**
     * Backup the whole database or just some tables
     * Use '*' for whole database or 'table1 table2 table3...'
     * @param string $tables
     */
    public function backupTables($tables = '*', $outputDir = '.')
    {
        try
        {
            /**
            * Tables to export
            */
            if($tables == '*')
            {
                $tables = array();
                $result = mysql_query('SHOW TABLES');
                while($row = mysql_fetch_row($result))
                {
                    $tables[] = $row[0];
                }
            }
            else
            {
                $tables = is_array($tables) ? $tables : explode(',',$tables);
            }

            $sql = 'CREATE DATABASE IF NOT EXISTS '.$this->dbName.";\n\n";
            $sql .= 'USE '.$this->dbName.";\n\n";

            /**
            * Iterate tables
            */
            foreach($tables as $table)
            {
                echo "Backing up ".$table." table...";

                $result = mysql_query('SELECT * FROM '.$table);
                $numFields = mysql_num_fields($result);

                $sql .= 'DROP TABLE IF EXISTS '.$table.';';
                $row2 = mysql_fetch_row(mysql_query('SHOW CREATE TABLE '.$table));
                $sql.= "\n\n".$row2[1].";\n\n";

                for ($i = 0; $i < $numFields; $i++) 
                {
                    while($row = mysql_fetch_row($result))
                    {
                        $sql .= 'INSERT INTO '.$table.' VALUES(';
                        for($j=0; $j<$numFields; $j++) 
                        {
                            $row[$j] = addslashes($row[$j]);
                            $row[$j] = ereg_replace("\n","\\n",$row[$j]);
                            if (isset($row[$j]))
                            {
                                $sql .= '"'.$row[$j].'"' ;
                            }
                            else
                            {
                                $sql.= '""';
                            }

                            if ($j < ($numFields-1))
                            {
                                $sql .= ',';
                            }
                        }

                        $sql.= ");\n";
                    }
                }

                $sql.="\n\n\n";

                echo " OK" . "
";
            }
        }
        catch (Exception $e)
        {
            var_dump($e->getMessage());
            return false;
        }

        return $this->saveFile($sql, $outputDir);
    }

    /**
     * Save SQL to file
     * @param string $sql
     */
    protected function saveFile(&$sql, $outputDir = '.')
    {
        if (!$sql) return false;

        try
        {
            $handle = fopen($outputDir.'/db-backup-'.$this->dbName.'-'.date("Ymd-His", time()).'.sql','w+');
            fwrite($handle, $sql);
            fclose($handle);
        }
        catch (Exception $e)
        {
            var_dump($e->getMessage());
            return false;
        }

        return true;
    }
}